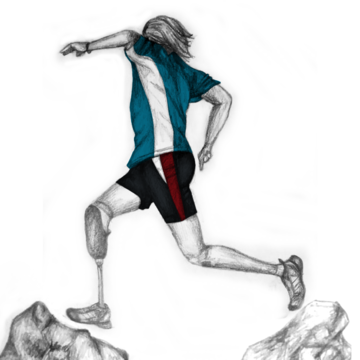 The Cost of Prosthetic Legs in Bolingbrook, IL
If you live in or around Bolingbrook, IL and are looking at prices for prothetic legs, then this article is written for you.  – Even if you live in the surrounding areas, such as : Lemont, Romeoville, Darien or Woodridge, IL these prices below are still valid.
Most individuals that are in search of a prosthetic leg are below knee amputees so we are going to start with this kind of a prosthesis.
The easy answer for you is that a below knee prosthetic leg will range from approximately $6,000 – $17,200.00 approximately.
How do we know this?  Well, we service this area a lot and we have done a serious break down on costs that we will share with you soon.
The reason why the price can have the range we are talking about is because of 2 main things.
1.) Quantities –  Meaning, the quantities of stuff you get with the leg.  Textiles, liners etc.
If you choose to forgo most prosthetic socks and stay with perhaps with one gel liner then the costs of the prosthetic leg will be lower for you.
2.) Componentry / K Level
The complexity of componentry you get based off of something called your K level.  – Your K Level is determined off of how active you were and how active you have the potential to return to be in the near future.
The foot for example can also greatly sway the cost of a prosthesis as much as $7900.oo.  This can greatly reduce the cost or increase it, depending on if you are going with one of these more complex feet or if you only need a K2 foot that costs $394.00.
We have a great blog post that breaks down K Levels, detailed pricing and insurance related stuff if you go here : https://rinellapo.com/how-much-does-a-below-knee-prosthetic-leg-with-pin-cost/
It is worth your time to check out that blog post if you want to get into the details of everything.  Even if you are not going to get a pin socket, the costs are within reach of a suction style prosthetic leg.
The purpose of this post is to give you a higher level overview of costs, if you are just looking for a quick range of pricing.
Do please check out our other blog posts in the future as we will be reviewing above knee prosthetics and what those prices are.
Please also remember that most of the time the cost of a prosthetic leg can be negated up to 80-100 % if you have Medicare and a supplement.  Or if you have an insurance plan that covers everything.  You will want to call a prosthetic company like ours though to help you navigate these waters.  Companies like ours do a coverage of benefits determination with your coverage plan for free and it is a great service for someone looking for a prosthetic leg in or around Bolingbrook, IL .
Best of luck to you.